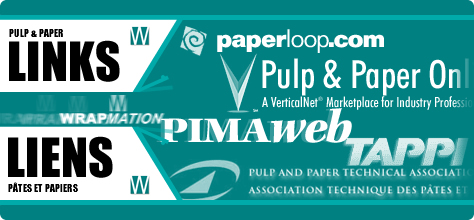 Links related to Pulp and Paper Industry


Links related to standards used in the Pulp and Paper Industry


Links to suppliers of components for TRAQ Manager


Links to interesting articles

Links related to Pulp and Paper Industry
Le Maître papetier
La référence électronique pour l'industrie des pâte et papier au Québec.
TAPPI Web
TAPPI's web site.
Pulp & Paper Net
Useful information and communication resource that makes pulp and paper industry professionals' jobs easier.
Pulp & Paper Canada
Canadian Pulp and Paper publication
Pulp and Paper Online
Virtual community and market place for Pulp and Paper Industry.
RISI - formerly Paperloop
The premier information and business exchange for the paper, printing and converting industries.
PIMA
The Paper Industry Management Association (PIMA) is the premier association for management professionals in the paper and pulp industry.
Pulp and Paper Technical Association of Canada
PAPTAC is a Canadian-based non-profit organization, dedicated to improving the technical and professional capabilities of its members worldwide, and to the advancement of the pulp and paper industry.
Finishing & Converting Net
A great resource for finishing and converting information. This great site is back.
Pulp and Paper Products Council
The Pulp and Paper Products Council is an alliance of product associations serving an international membership in the pulp and paper industry.
Yahoo Stock Quotations for paper companies
Yahoo Stock Quotations for paper companies
RSS Newsfeed
This page demonstrates how we can use XML to gather news from various sources and consolidate them into a single page



Links related to standards used in the Pulp and Paper Industry"
Definition of terms
Definition of term, words and / or phrase commonly used in pulp and papermaking, printing, converting and paper trading
Pulp and Paper Standards from IDE Alliance
Some good source for standards used in Pulp and Paper IDE Alliance (International Digital Enterprise Alliance) .
PapiNet
Organization for global electronic transaction standardization for the Paper supply chain .
TAPPI Roll Number TIP Revised and Reissued
Revised TIP 1004-01 TAPPI Roll Number for Inventory/Tracking Systems and Bar Codes.

Links to suppliers of components for TRAQ Manager
Wrapmation endorses the following suppliers for use in paper mills.
Load at Departure
Preventing loading errors prior to loads leaving a mill or warehouse
Hewlett Packard
Famous supplier of servers, workstations, printers and Compaq Computers, now HP owns Compaq
Intervan
Electronic commerce solutions for the paper industry.
Lotz Industrial Printer
Industrial laser label printer solutions.
Microsoft
A software company in Redmond, WA.
Panasonic
Supplier of TOUGHBOOK portable computers
Printronix
Heavy duty and proven label printers that last
RFID Canada
Canada's leading RFID technology provider wiht 25 plus years industrial experiance.
Zebra
Industrial strength barcode printers.

Links to interesting articles
The following links are to articles that are outside of our site. We do not take responsibility of the contents.
Don't Let Your Ego Get in the Way of Your MES

Canadian Paper Industry Profits to Almost Triple by 2006

Primer on RFID - A good explaination of the technology

Early implementation of RFID by some paper mills

Analyzing roll production for better process performance at Papier Masson

Software selection at mid-market companies

Paper industry IT architectures: Putting the software pieces together by Mark Cubine

Buyer vs. Supplier by Jerry Davis

Increased warehouse efficiency with Wireless technolgy by Glacier Computer

Finishing room tips and tricks

System by Wrapmaion to document the condition of loads prior to departure